jeans from asos (diy) (similar) (or get cheap patches off ebay!), white top from zara, cardigan from missguided, heels from topshop via love the sales (similar, also like), bag from marks and spencer (second-hand)
It's that time of year again! Out of the two LFW seasons, February is definitely the quiet, grumpy cousin of September. In September the weather is usually still pretty good so you can wear snazzy outfits that require bare legs/arms/midriff/general nudity, and you're looking at gorgeous summery collections that've got you dreaming of exploring exotic locations in spangly sundresses and pastel brights. In February the weather is generally dismal, and the winter knits and coats on the catwalk are probably the last thing you want to see after having to bundle up in a coat and hide your super cool outfit underneath (and yes, I was wearing a coat over this outfit most of the day, to protect from the wind and drizzle that plagues this lfw).
Don't get me wrong, I'm all for FASHUN. And I love LFW because it's the one time everyone's more dressed up than me, and there's so much fabulous street style inspiration everywhere. But this season I'm being more picky with my time, and only going to shows I really want to see (which you can also see, on snapchat! I'm 'anoushkalila'), and that are going to be worth braving the wind for.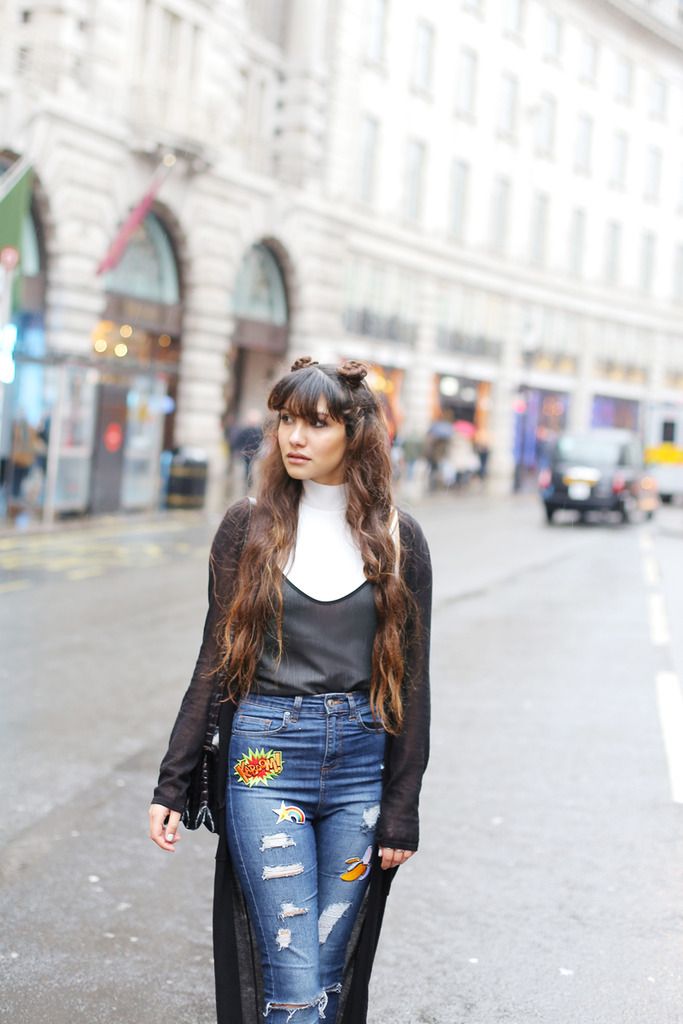 Today's outfit was so DIY that I actually ironed on the patches on my jeans this very morning. You can actually see their transformation from a bog standard pair of knee-rip jeans to a super-ripped pair of jeans – I think they look so much cooler now!
FYI, I do not reccommend ironing patches on anything form fitting, because obviously they stretch when you put them on, and then the patches fall off. Yep, I learnt that the hard way.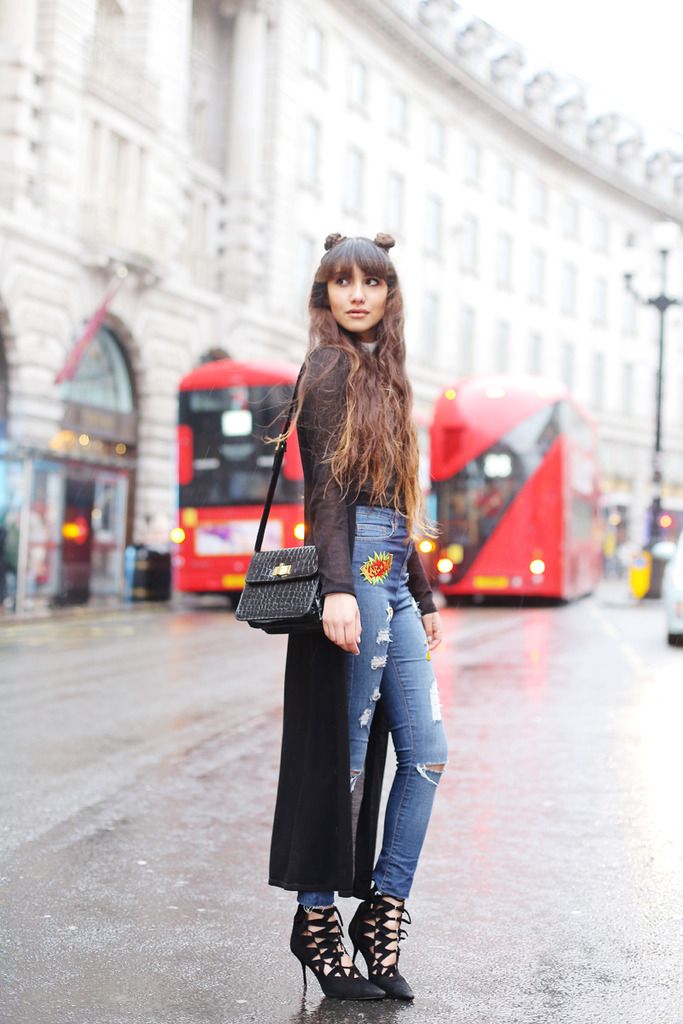 This look is unintentionally 90s, especially with the hair (shout out to the Mark Hill hairstyling team at The Apartment for the do!), very Gwen Stefani in the No Doubt days. We wandered around London for absolutely ages hoping the rain would ease off to shoot this look, before having to give up and just go for it, hoping I wouldn't end up looking too wet and miserable – from 1 to 10 on the drowned rat scale I'd say I'm only about a 6, so it's not too bad! Classic LFW though, it always has to rain. I'm just glad I nixed the open-toe shoes!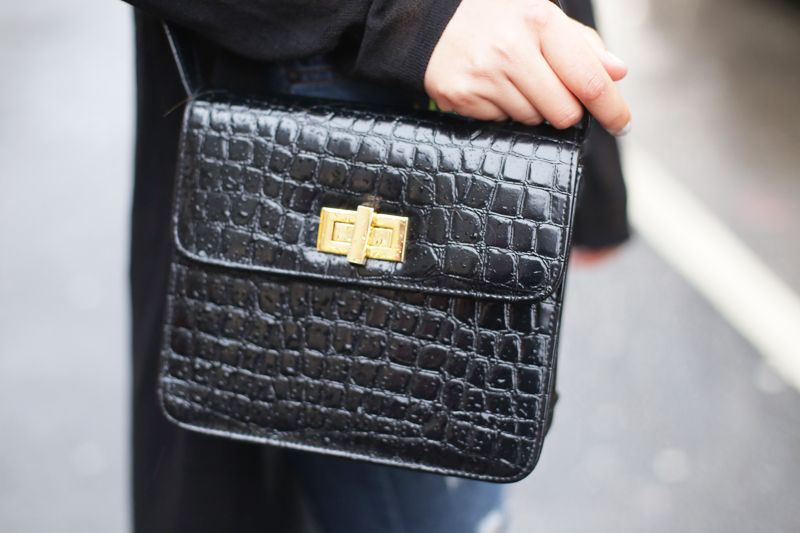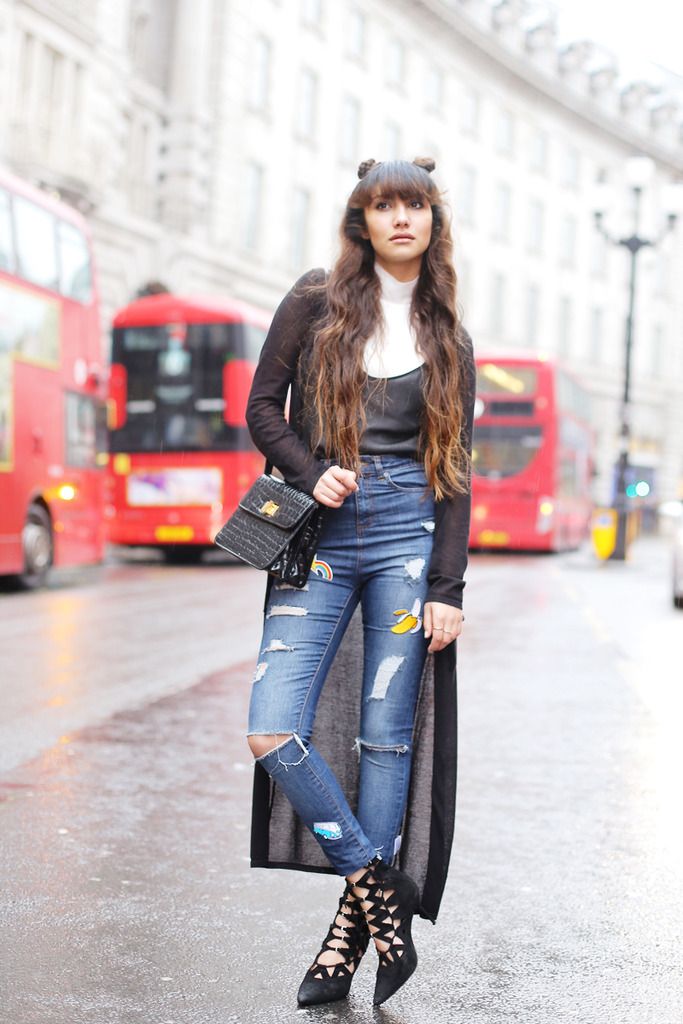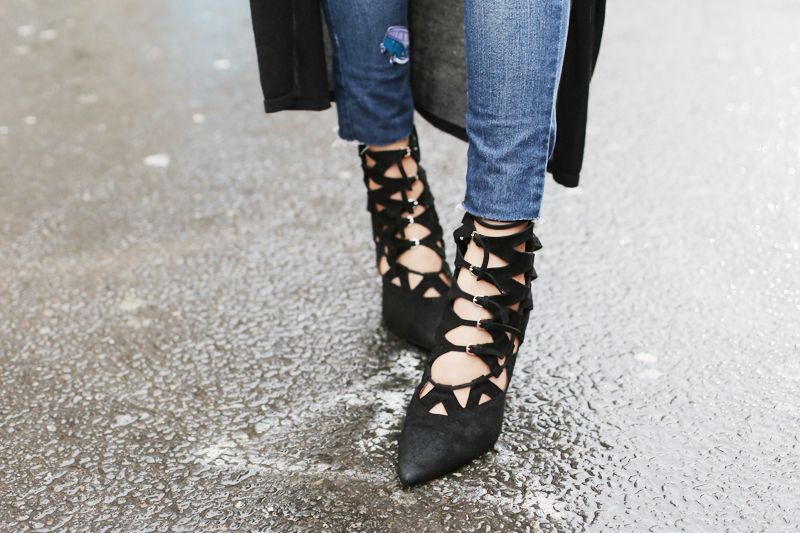 I'm hoping to share a few more LFW looks so keep your eyes peeled, plus let me know what other coverage you'd like to see!