Swoon-worthy halloumi fries from Oli Baba's
I recently got invited to the launch of Kerb's new street food venture in Camden Stables, with over 30 stalls serving a variety of cuisines from some of the best street food traders in London.
Now getting excited about food is nothing new for me, but I was particularly thrilled for this event as I'd been trying to track down halloumi fries ever since getting a taste of them at Secret Cinema's Star Wars event last summer. Turns out there's one place in London that does them, and they're based at Kerb's new Camden home. Talk about fate! Obviously they were the first thing that I tracked down when I arrived, and they did not disappoint. Served with yoghurt and pomegranate, these fries are soft salty yumminess on the inside and perfectly crispy on the outside.
Seriously, whoever decided to take halloumi and DEEP FRY it deserves a knighthood or something. SO GOOD.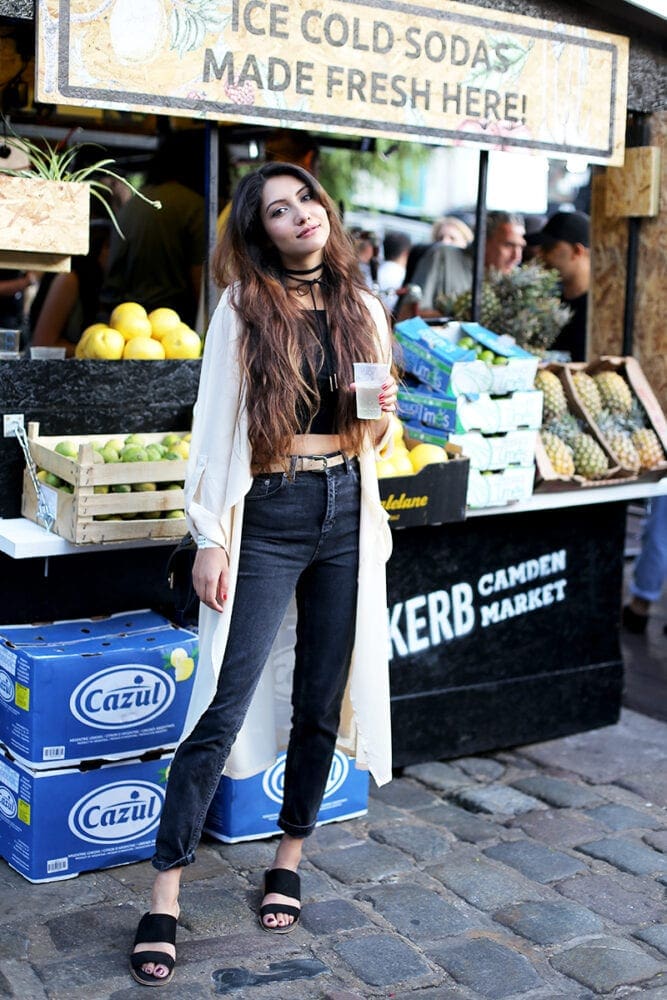 What I wore…

In the name of research I obviously had to try way more food, so made a beeline for Ink, a stall selling fried squid with three different flavours of mayo. There was a serious queue, which is generally a positive sign that you're getting something right. The squid did indeed prove worth the wait, although I was so hungry by the time arrived that I didn't manage to get a picture before gobbling it down..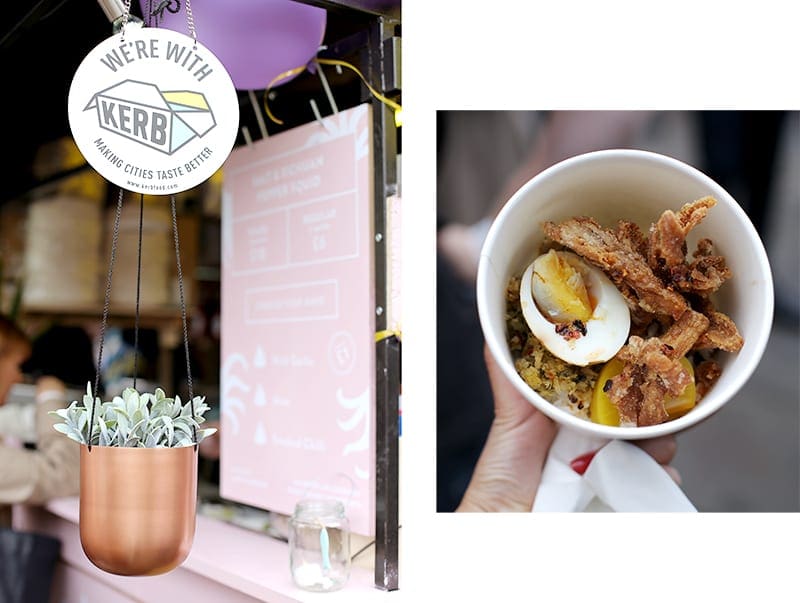 The Ink stall, home of amazing deep fried squid, and Bian Dang's Crumbed Oyster Mushrooms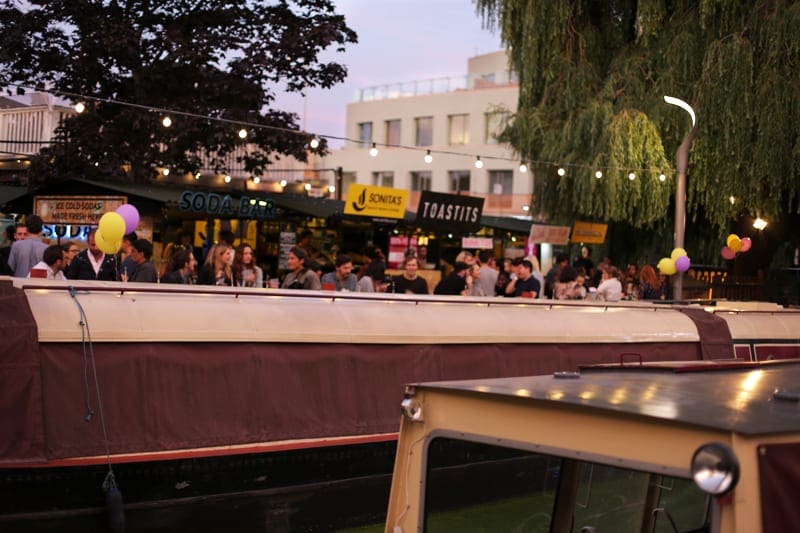 While the range of food is obviously the main draw (Venezuelan, Indian, Taiwanese, you name it..), the location is a seriously gorgeous spot to stuff your face. Based right on the canal Kerb is in the heart of Camden with houseboats bobbing in the water between the stalls.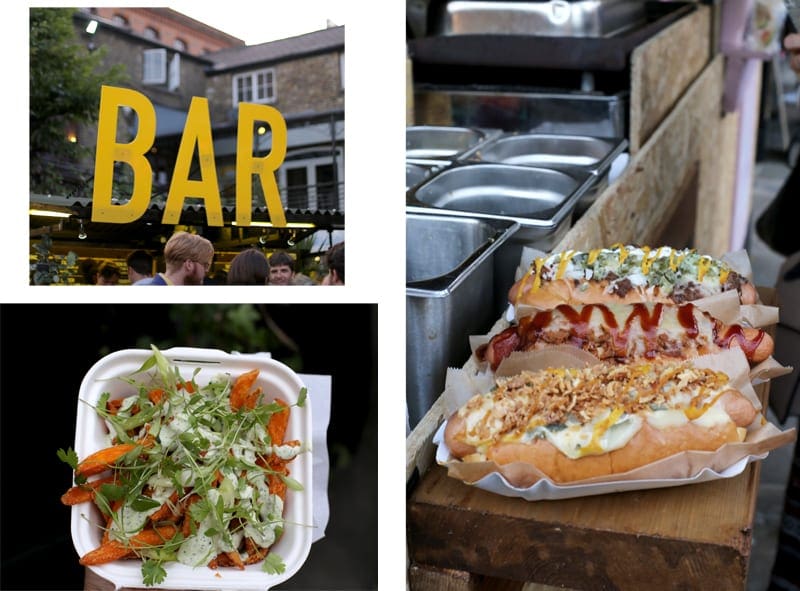 Sweet potato fries from Yu Kyu and hot dogs from Oh My Dog!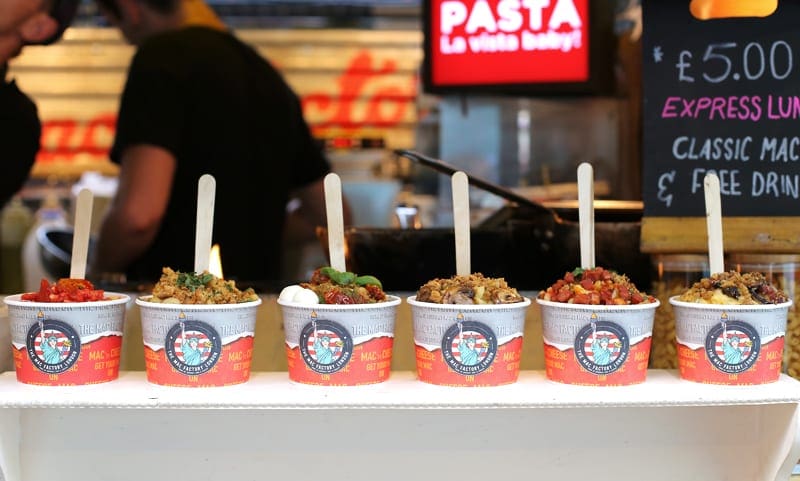 The mac and cheese from Mac Factory
Conveniently there's a bar on site, making it the perfect place for a bite and a pre-drink before heading out to party. I've been saying for a while now that Camden is finally starting to shake off its tourist rep and make a comeback, and this new foodie mecca just proves it. Give it a couple of months, everyone will be chowing down fried chicken at Mother Clucker followed by ice cream sandwiches from Blu Top before partying all night long at Lock 17! (Okay I'm not sure I actually want Lock 17 to make a comeback, that place reminds me way too much of being freshly 18 dancing to the likes of Tinchy Stryder and Calvin Harris, but you get my drift..!).
Lemme know if you've been to Kerb, or if you have any other street food recommendations!