I recently moved into my first flat, and swiftly became obsessed with interior decor, spending practically all my free time scrawling through Ikea catalogues and browsing Etsy in the hope of spotting a bargain. Homeware shopping can be quite overwhelming when you're starting, as there are so many different options and you need to be keeping in mind price, quality, as well as whether everything will go together. Creating a coherent theme and sourcing items that all work together to evoke said theme without breaking the bank is not easy, but if you know what you want and where to look, it makes things a lot easier. For me it was important that my home reflected my personality and interests through decor – I love colour and I love travel, so I went for a 'global fusion'/wanderlust theme with my interior furnishings. I thought I'd share a few of my favourite places to source pieces, as well as a little glimpse into my home!

WALL ART
All the walls in my pad are white, which I didn't want to change as it means the place is incredibly bright even in Winter. However plain white walls can look a little sterile and I'm a sucker for colour so I decided to brighten the place up with lots of prints and posters. An art wall is by no means a new concept (they pretty much make up half the interiors boards on Pinterest) but they're such an easy way to add some personality and make a statement without breaking the bank.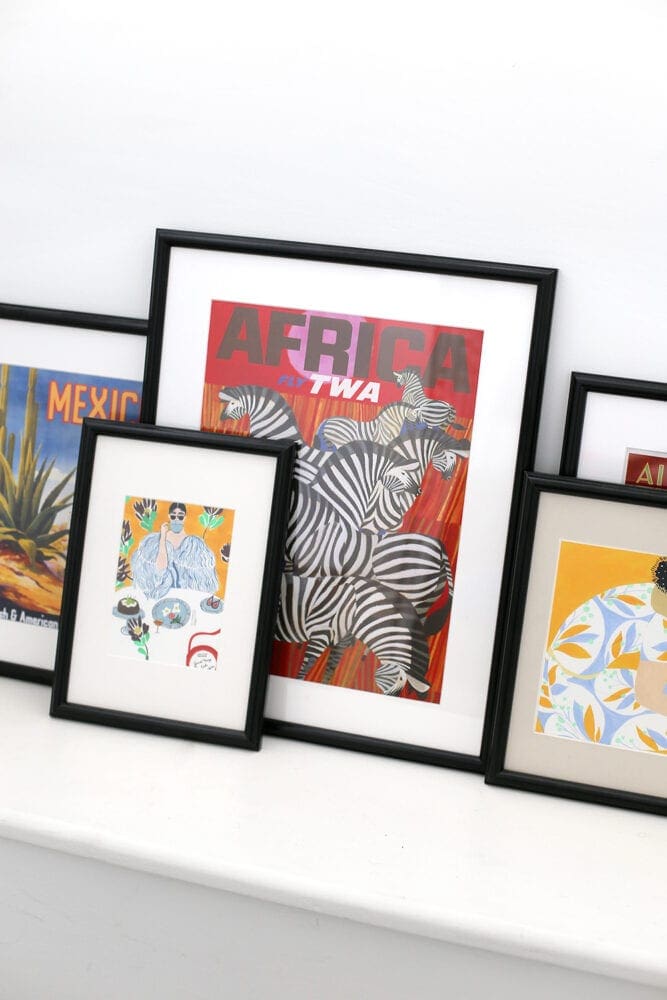 ISABELLE FELIU PRINTS
I've spent hours upon hours scouring the internet for the perfect prints that not only resonate with me but also look good together and go with my overall concept. My very favourite place for prints is Etsy, where I got my travel themed posters that I absolutely love and which are super cheap (check out The Print Arcade and Nordic Design House). eBay also has lots of great options – although I haven't done it myself one creative decor idea is buying things like old matchbox covers and other design bits and bobs and put them into hanging frames like these. I also picked up prints from Society 6 – it's a bit more expensive and tends to be more computer generated graphics but it supports independent artists and has a huge selection. My favourite is Isabelle Feliu, who does the most gorgeous colourful fashion prints. If you've got the budget I'd recommend getting them pre-framed as I found the ones I bought didn't fit standard frame sizes and I had to cut down the card framing.
FURNITURE
Furniture shopping is the kind of thing that would be super fun if you had unlimited dough and tons of space, but the reality of it for most people (and definitely me) is that it's hard to furnish a pad on a budget. However if you're willing to spend a bit more time and effort to grab a bargain, you can find some great hidden gems for a fraction of what they'd cost in a store. I got several bits of furniture at Auctions, for me that meant my local Southgate Auctions which is an absolute treasure trove and sells amazing antique pieces at seriously good prices. Charity Shops are another great option – I got a beautiful large mirror for £30 that would have been well over £100 brand new. Again, eBay is a great place to grab a steal, and if you're on a really tight budget sites like gumtree and freecycle have people selling/giving away old furniture.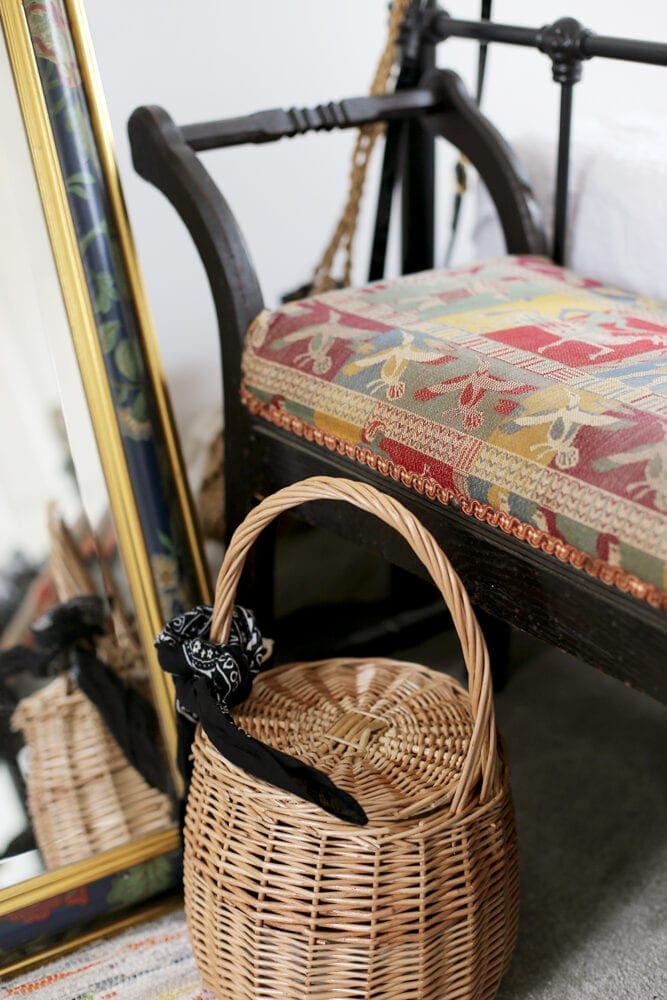 Two of my favourite furniture finds, a charity shop mirror and a bench found in the auctions. Plus the Topshop basket that never leaves my arm!
TRINKETS
Once you've come up with the concept, painted the walls, and picked out the furniture, it's the little trinkets and styling pieces that transform a space and make it a home. I'm a little biased because I work there, but Anthropologie does some seriously beaut homeware, from patterned dinnerware sets to cute trinket dishes (which I always end up spending my pay check on, because I can't resist trinket dishes to pile all my stuff into). It's definitely on the pricier side, but if you want to pick up a couple of small special pieces, it's a great place for it. Urban Outfitters also do some great homeware which is slightly cheaper and more youthful – my top pick is their Crosley record players which look so chic and come in styles to suit every room theme. H&M home is a fairly obvious one – whilst you're not going to pick up that 'wow' piece from them they do have some nice gold accents and soft furnishings at affordable prices.

As I wanted my home to reflect my love of exploring, it made sense for me to include special pieces I found on my
travels
in my home decor. I love having pieces that remind me of a place or memory, and have travelled thousands of miles with me to end up in my home. On a recent trip to Mexico I picked up a throw that now lives in my sitting room, as well as a beautiful hand crafted mask that I nearly didn't buy but which I love so much every time I look at it now! I've also got some beautiful Indian lanterns, that I'd actually picked up years ago exploring the markets of Mumbai and which finally have a home hanging next to my curtains.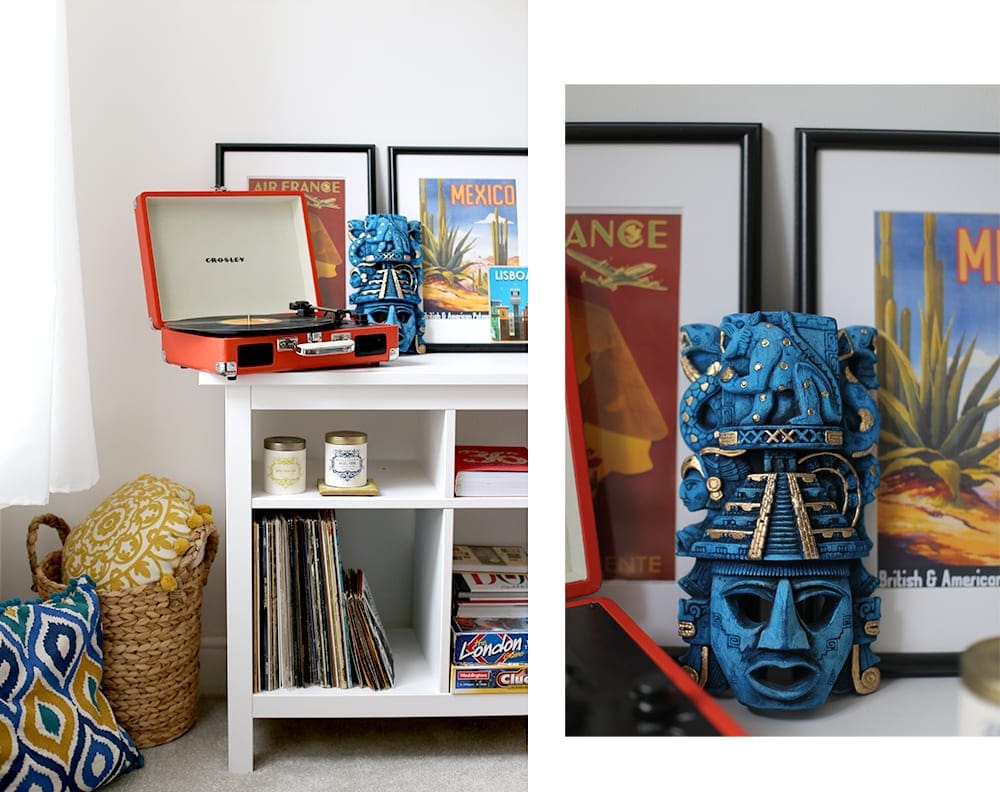 If you're really keen on a particular item but can't afford the price tag, don't be scared to get a bit crafty and DIY your own one-off piece. I knew I wanted white curtains with a pom pom trim in my living room, however I couldn't find any that were quite right. It's so frustrating when you know exactly what you want but no one seems to be selling it – but take it as an opportunity! I ended up buying a cheap set of white curtains from Ikea and some pom pom trimming from eBay, which I sewed along the seams to create exactly the curtains I wanted. So easy to do if you have access to a sewing machine, and you end up with something no one else has. Cushion covers are another possible DIY option, plus Pinterest is chock-a-block with DIY projects for the craft-minded!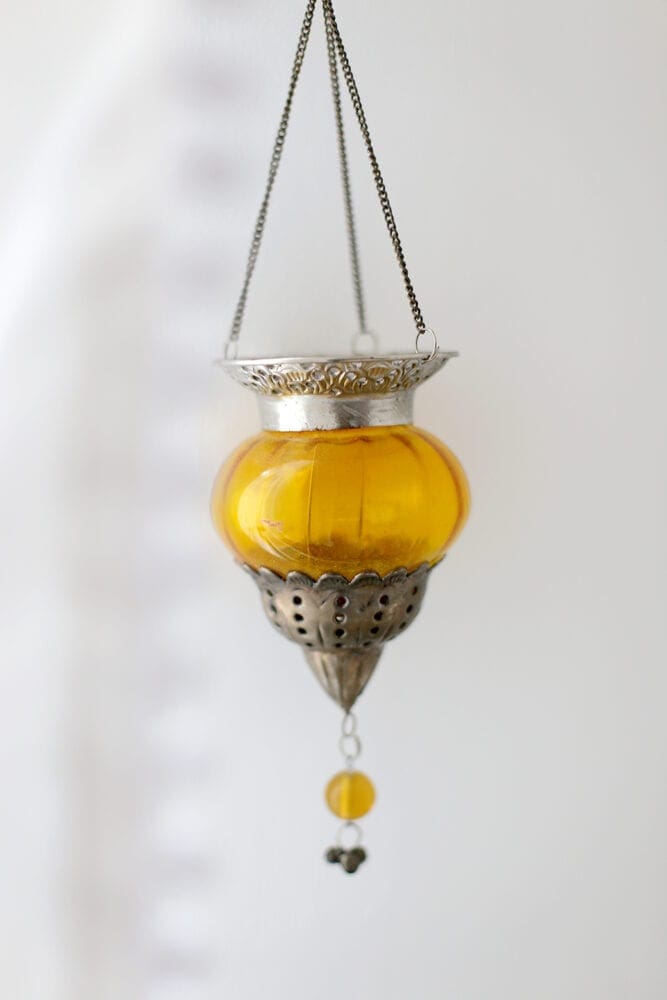 My gold lantern from the markets of India
LIGHTING
Lighting is one thing I couldn't believe was so expensive when I was doing up my place. It's just some metal and a bulb, why the £150 price tag?! But eventually I did find some cheaper but still stylish options after some serious digging. I wanted a living room floor lamp for mood lighting when you don't want the main light on, which I eventually found at Dunelm for £50 which is a serious steal for a floor lamp. I also wanted a lamp that creates a nice moody glow for my bedroom, and ended up settling on this style from Value Lights, which I adore. You just have to tap it to turn on and off, and it has three different levels of brightness, all for £30! Plus it comes in loads of different colours so you could get one for every room (if you wanted.. Which I kind of do!).
A BIT OF EVERYTHING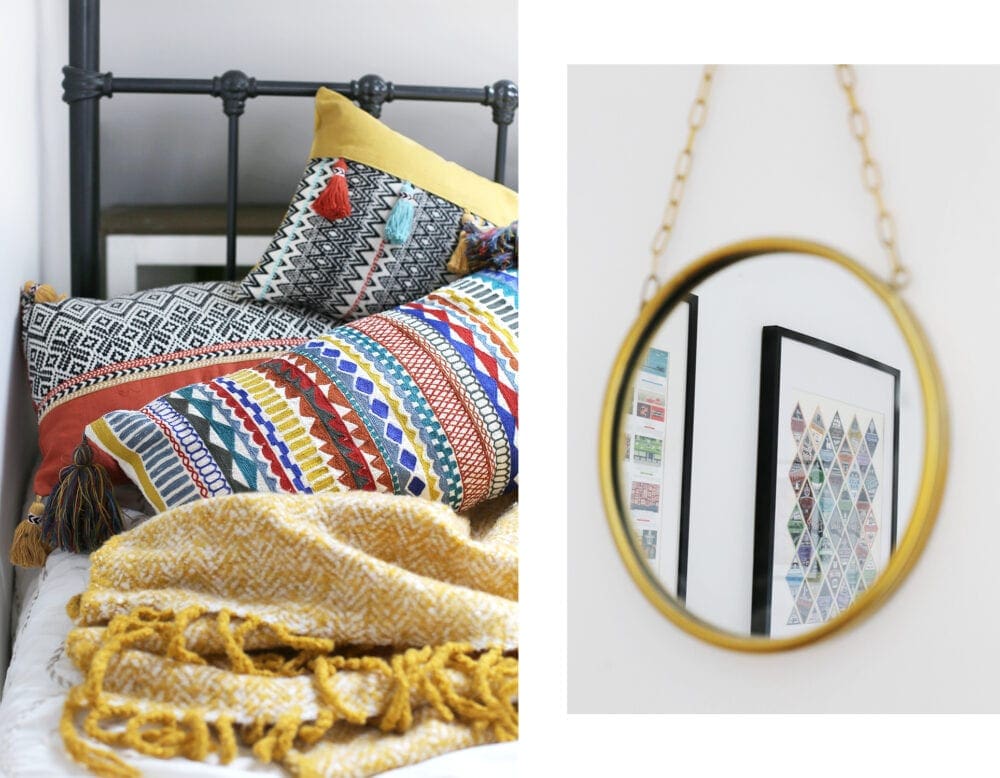 I have a serious guilty pleasure, and that's soft furnishings. I firmly believe that you can never have too many cushions or throws – they're such an easy way to cement a decor theme, and make a space look cosy and inviting. I've got cushions from so many places, but some of my favourite styles are from Maisons du Monde, a French homeware store which has options to suit all budgets. Wayfair is another great online store for those final touches, from cushions to decorative objects. Their stuff doesn't push boundaries, but there's a wide variety and some classic styles. My best kept homeware secret though is Achica, a members furniture sale website. They do daily flash sales with everything from dinnerware to christmas ornaments, and all sorts in between. You never know what gem you might find on sale on their site, and there's always more to browse.
I hope you've enjoyed the little tour around my pad – lemme know if you'd be interested in more interiors content! Also gimme a shout if you have any great hidden gems for homeware?